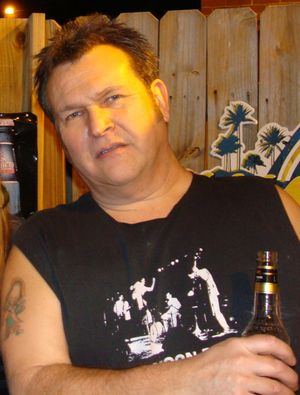 I saw my friend Ray yesterday at a fantastic Hot Rod Show where I was performing at, (put on by the Artists of the Rustbelt and the RoadhoundsCar Club at the B&O Station in Youngstown Ohio.) 

   Seeing Ray yesterday, and as always, is such a great pleasure for me because my friend Rockabilly Ray Kollar is one of my favorite people ever.
   And to anyone who likes the music I perform today, I have to tell you, Rockabilly Ray is one of the biggest influences and inspirations I have had.

   You see, I met Ray back in 2007, but first a little back story…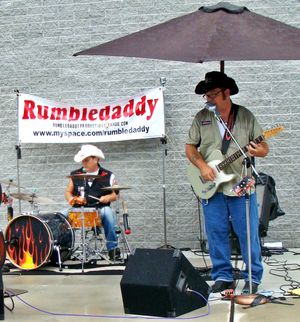 By 2007, I considered myself completely retired from music at that point of my life; I had just gotten married a few years earlier, I had just turned 40 years old, and I just felt like music was a closed chapter for me
   Now, I was still playing a little music with an all original hard rock/ alternative style band with some friends of mine, but we were basically just parked in a basement.
   No one really expected it to go anywhere; just some friends hanging out and making music once a week in a rented space in an old warehouse.
   As I was hiding myself and my playing away from the world in those old brick walls, I started thinking about how much music had meant to me all my life, and how much it had given me in the form of opportunities, life experiences, and lifelong friendships.
 
   I started getting the bug to do something more with the music.
 
   But I was also looking towards the future.
   My 40th birthday had already passed…I had a fast food physique, and a construction workers hands and schedule.
   I couldn't see myself continuing on playing the kinds of loud rock I had played up until that part of my life.
   My heart wasn't in it anymore, I wasn't inspired by those sounds any longer, and I also felt increasingly undignified clinging onto music styles best left to younger people than myself.
 
   I talked to my wife Jean about all of this, and had been telling her about how much I really liked vintage music, especially old time blues.
   Jean could tell I was in a real rut, so she started picking up some CD's for me and bringing them home... Muddy Waters, Robert Johnson, etc. (yes, you used to be able to buy music in a store in the good old days of 2007)
 
   Well, the bug was really in me then, but the guys that I was playing with had no interest, or ability to play this kind of music.
   So I started looking around for a side project to my side project (that's how we musicians do it)
 
   So I'm digging into all of this vintage music, and I'm scanning Craigslist and BackPage everyday looking for like minded musicians, when I run across an ad in the Youngstown Craigslist- "Wanted- Rockabilly Guitar Player"
 
   Well, I thought to myself, I have always loved rockablly. I had saw Reverend Horton Heat way back in '93 or '94 and I'm not sure why I didn't start playing rockabilly way back then.
  I had grown up with all kinds of rockabilly and country western music via my parents, who were both born in the '40's and grew up in the '50's and '60's.
 
   So, I see this ad in a city only about an hour away from me, and think "what the hell, I'll give 'em a call, it's not Lightning Hopkins, but this may be even more of what I've been looking for."
 
   Well, that is when I met my friend Rockabilly Ray Kollar.
 
   I went out to Youngstown and met up with Ray and an upright bass player named Fred (whom Ray had found in a previous Craigslist ad) and the rest is history.
   The three of us eventually turned into a band called RumbleDaddy, which jump started my music career into what I am doing today.
 
  Ray is, and was when I first met him, a retired Auto Worker.
  He built Chevy's in Lordstown Ohio for 30 years, and when I ask him what he did at the plant, he tells me he was a Robot.
  (upon further questioning, Ray eventually told me stories of how when he was working in the plant, he'd have the Cramps and The Blasters, The Paladins, and great bands like that blasting away on a boom box at his work station; he was a rockabilly apostle to all of those auto workers long before he met me)
 
  When I met Ray, he had this enormous collection of rockabilly and blues music; cassettes, records, CD's, MP3's, you name it.
  Ray was obsessed with all of the music that I wanted to learn about!
 
   Every time I went to Ray's house for a rehearsal or just to hang out, he loaded me up with CD's that he made for me out of the tons of music he loved and thought I'd dig.
 
   In fact, at one of our first rehearsals, he gave me both Hillbilly Hellcats albums, a bunch of music by Fort Wayne's Kenny Taylor, and a Legendary Hucklebucks CD.
   He said, "Just play like these guys, and you'll be fine" ...(I still can't play like those guys!)
 
   Ray knew everybody, and introduced me to a lot of great people and music.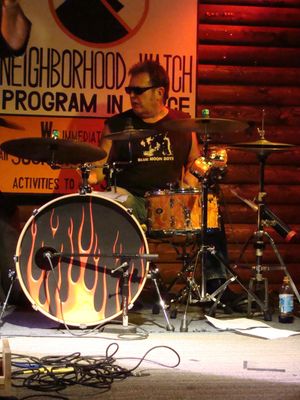 Seeing Ray at my show the other day, it occurred to me how many of the songs that I still cover, were songs that I had played with him, or songs that he had given to me for my listening education.   

  He taught me how rockabilly is supposed to sound, how an Upright Bass player should play and sound, and how this music can be carried with simple drums played on a two piece kit. (Ray only occasionally set up a floor tom back then, he mostly used just a bass drum, a snare drum, a hi-hat cymbal and a ride cymbal)

  These days, Ray is playing in a traditional country band with a bit of rockabilly thrown in.
  They are called the Muleface Brothers and I can't wait to get out and see them soon.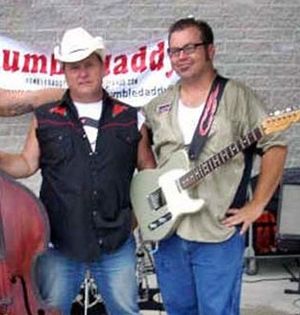 God bless you Ray!
   I've never met anyone who loves a fart joke, or old Hoolihan and Big Chuck skits, or vintage music as much as you.
 
  And thank you for the part you played in steering my life to where it is today!